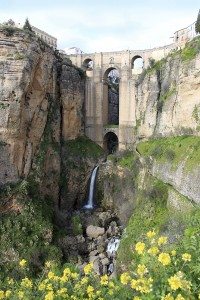 We do believe that we deliver the best private and small group Tours in Andalusia Southern, Spain.  However,  what is more important is that our clients believe that too!  Please read below what some of them have chosen to say about their time with us.
"Thanks for a wonderful week Barry. We couldn't believe the diversity that Andalusia has to offer……and your knowledge and love for the place made our tour."    Alan and Kim, New Jersey.
"Thanks for a wonderful tour, (plus), of Andalusia Barry…..you exceeded our expectations every day."       Adrienne, New Zealand.
"We had our reservations at the time of booking our tour, but within five minutes of being met at Malaga airport, we knew that we had made the right choice. A big thanks to the Your Andalusia team for giving us an amazing week of tours and for being so considerate with my mother-in-law. We will most definitely tour with you again in the future  and recommend you to all of our friends."  David, Beth and Cath.   Bangor, Northern Ireland.
"Your flexibility made our holiday Barry. The ability to have some touring days and some relaxing days meant that our whole family were able to enjoy our ten days in Andalusia."  The Allan family,  Manchester.
"An absolutely fantastic way see and experience the real Andalusia. Your experience and understanding of the people and the history of the region provided a great insight and left us wanting to learn more. We recommend this holiday to anyone who is even remotely interested in the cultural side of Southern Spain."      John and Stacy, South London.
"We were a bit worried that a 'tour holiday' wouldn't suit our family, particularly our children, but the effort you made to explain everything and keep the kids involved really made the difference for us……so much so our kids are asking if we can 'tour' again with you next year! Thanks so much for your special care Barry." Andy and Ellen from Glasgow.
"I would like to recommend a tour holiday with Your Andalusia to everyone! I had toyed with the idea of hiring a car and booking hotels on our own but having toured with Barry and his team I am now wondering what the h**l was I thinking about????? The holiday for my wife and I cost less than touring independently and Barry's knowledge of the history of the cities and his language skills were invaluable. However, perhaps the best of all for me was the fact that I didn't have to drive at all in Spain and as I was particularly dreading driving in the Spanish cities, this meant that my wife and I were able to enjoy our time in Andalusia so much more. We will see you again soon Barry and wish you continuing success in your exceptional venture."  Alex MacDonald, Liverpool.
"We chose a private tour with Your Andalusia as we have two sons in the 'terrible teens'. The week long tour was part of a wider visit to Europe and the tour went like a dream. The venues and events recommended by Barry were top class and his ability to solve our minor problems and keep the boys interested really went above and beyond the call of duty. We have already recommended Your Andalusia to all our friends. (p.s. the segway tour was a stroke of genius Barry……thanks for taking the boys on this and leaving some 'us' time for Liz and I."     Toni and Liz, Boston.
"As a female independent traveller, I am always very concerned with whom I travel with and I would like to recommend Your Andalusia to anyone in a similar position. My tour with you and your wife Barry really was perfect and the fact that I was able to stay with you at your home made me feel so very welcome. Thank you both for looking after me and for explaining so much about the history of Andalusia. It has always been my dream to visit The Alhambra and The Mezquita, and you helped make that dream come true."                          Suli, Singapore.
"The Private Villa option that Your Andalusia has to offer was perfect for us as my husband loves to cook and the fact that we had our very own 'home from home' meant that we enjoyed the tours during the daytime even more than we expected. The swimming pool and the space at the Villa made it something to look forward to each night. Thanks for everything Barry, we are recommending you to everyone."          Adele and Frank , Wigan.
"Barry – BEST tour ever mate. Thanks for an amazing week. In the words of Arnie…..we will be back! "                Jim and Shona, Perth.
"Firstly, Barry is wonderful, welcoming and helpful host with a huge knowledge of Andalusia and beyond. His many stories and tales brought history to life and his suggestions of where to go – and which restaurants to visit – was spot on. The tour was very well organised with the flexibility to make changes depending on weather and circumstances. Accommodation is extremely comfortable with great continental breakfasts. If you've not been to this part of Spain before, this is the way to do it! An amazing part of the world with many wonderful surprises. YOU DELIVERED ON EVERY PROMISE BARRY…….AND THEN SOME. Thanks for everything…….we have left Andalusia knowing that we have made a new and very good friend."    Jim and Bernie. Sydney, Australia.
Social Share